International Postgraduate Studies in Water Technologies (IPSWaT)
The IPSWaT-scholarships for master and PhD-degrees at German universities aim to provide capacity building for future decision makers in science, economy or development cooperation worldwide in order to contribute to sustainable development in the water sector. Since the IPSWaT programme will run out in 2014, no more applications for scholarships are accepted.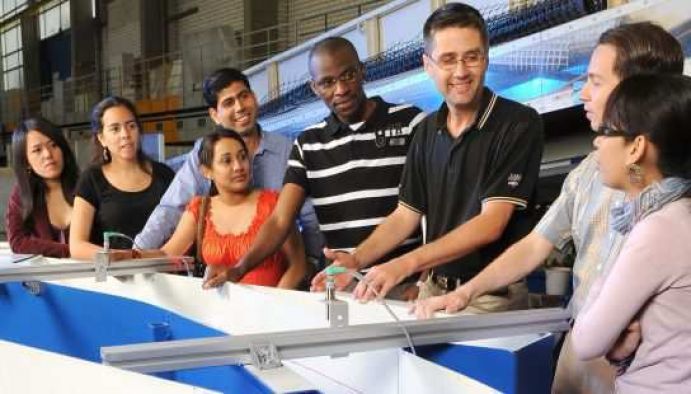 The IPSWaT-programme (International Postgraduate Studies in Water Technologies) aims to support outstandingly qualified young scientists fromGermanyand abroad in attending German universities to acquire Master's or PhD degrees in English that are international in outlook and related to water technologies.
In the last 10 years, almost 400 scholars and alumni (Master and PhD) from more than 60 countries worldwide have successfully participated in the programme. Since the IPSWaT programme will run out in 2014, the last selection of scholars happened in 2012. A total of 23 master courses from 20 German universities are accredited. Additionally, PhD-candidates could submit their application to any German university. One particular selection criteria was the relation of the research subject to the candidate's home country or region and an integrated, methodical approach. Research in the field of integrated, sustainable water management, groundwater modelling, modelling of water bodies, freshwater ecology and waste water treatment are some of the priority subjects.Field research abroad, participation in conferences, internships and annual meetings of the scholars make part of the scholarship. A further particular concern of the programme is the maintenance of the alumni network and building networks between IPSWaT-scholars and institutions of German water research, development cooperation and the water economy and technology sector.
Offering scholarships to young German and international scientists serves as support to the international transfer of knowledge and technology in the field of water management and the integration of potential future decision-makers, especially in developing and emerging countries. The objective of the programme is to develop long-term international scientific and economic contacts in the water sector. In a larger context, the aim of the programme is to take on global challenges and to contribute to sustainable development and green growth in the water sector.
On behalf of the BMBF, the IPSWaT-programme is managed by the Project Management Agency c/o German Aerospace Center (DLR).
Scholarship holders' meeting
Every year IPSWaT organizes a meeting of scholars which offers the oportunity to get in contact with representatives from the German water sector (government, research, technology and development cooperation). Moreover, scholars get the oportunity to present their research projects and exchange ideas. At the end of the event happens the award ceremony. The last meeting took place in Bonn, June 16 - 18, 2014. As the program will run out at the end of this year, it was also the last IPSWaT meeting at all. More information: Cornelia Parisius and Sara Sabzian.
IPSWaT: participating universities
Useful links:
Climate protection: fellowships of the Alexander von Humboldt-Foundation for prospective leaders
Each year the foundation selects up to 20 young qualified leaders to receive International Climate Protection Fellowships that bring them to Germanyfor twelve months. Before submitting their applications, they must have selected and established contact with an appropriate host university or institution, where they will carry out free, independent research on a subject connected with climate protection and resource conservation. The Humboldt fellows also engage in intensive discussion of their research findings, methods and techniques with their host institutions.
More information: http://www.humboldt-foundation.de/web/iks.html
DWA - German Association for Water, Wastewater and Waste
is the German technical-scientific association for sustainable water industry. As IPSWaT-student you get from DWA:
two years free membership
participation in seminars, workshops and conferences
once a year attend the "Young Scientists Programmes"
access to international networks and international career opportunities
For further information: http://www.dwa.de/
GAWN - German Alumni Water Network
The German Alumni Water Network has been established to better coordinate activities for former students ofGermanUniversitiesand development associations inGermany. It provides contact information from and for DAAD and IPSWaT-Alumni and Alumnae active in the the water sector online. Registered users of the database have the opportunity for using detailed search functions within the database to identify potential collaborators, to locate former colleagues, and to establish new links.
For further information: http://www.gawn.de/.
CIM - Centre for International Migration und Development
The Centre for International Migration und Development (CIM) is looking for people who want to use what they know where it is most needed: in emergent and developing countries. This is why the Returning Experts Programme works with graduates and experienced professionals who want to return to their home countries or regions.
For further information: https://www.cimonline.de/en/html/index.html
Alumniportal Deutschland
Researchers, scientists, experts, students, trainees – many thousands of people come toGermanyevery year. Alumniportal Deutschland gives them the opportunity to maintain their contacts and broaden their skills even after their return. On the web page and in the community they find events, advanced trainings, education programmes, webinars, jobs, companies, contacts and cooperation partners in their home countries and worldwide – also within the field of Water!
For further information: http://alumniportal-deutschland.org
DAAD-Scholarships on Sustainable Water Management
One of the priority funding points to which the Federal Ministry of Education and Research (BMBF) attaches particular importance in its Framework Programme on "Research for Sustainable Development is Sustainable Water Management (NaWaM)". Of particular interest are the thematic fields of Water and Energy, Water and Health, Water and Nutrition, Water and Environment, as well as Water in Urban Areas. At the centre of the DAAD Special Programme funded with the resources of the BMBF on "Sustainable Water Management" lies in the promotion of young scientists from Kazakhstan, Mongolia, Iran, Jordan, Vietnam and Indonesia.
For further information: http://daad.de/wasser-stipendien
Last updated on