17.01.2012
30.11.2024
Application Phase
Selection phase
Funding phase
Today
SPACES II – Science Partnerships for the Adaptation to Complex Earth System Processes in Southern Africa
"SPACES II – Science Partnerships for the Adaptation to Complex Earth System Processes" focuses on scientific cooperation projects in Southern Africa. The nine SPACES II projects contribute to the formulation of science-based recommendations for the management of the Earth System and the sustainable use and conservation of the region's various ecosystem services. German research institutions and universities are working in cooperation with partner institutions in Namibia and South Africa. SPACES II is funded by the BMBF with approximately 19 million euros.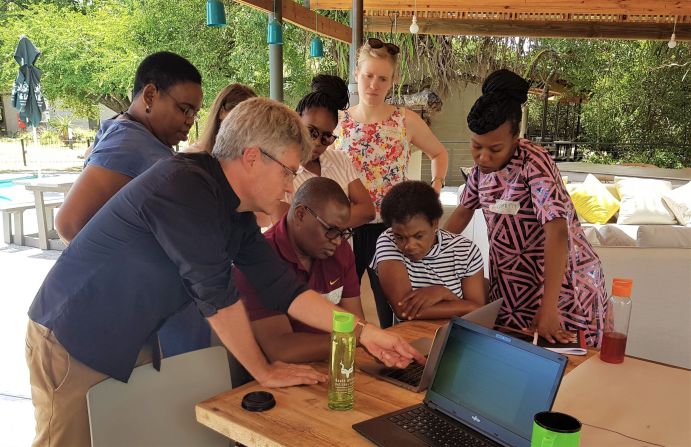 Even though Africa contributes the smallest continental share of greenhouse gas emissions globally, it is particularly vulnerable to the impacts of climate change. The challenges are particularly critical to the southern African region, due to climatic, ecological and socioeconomic reasons. In southern Africa, observed temperature increases are high compared to the rest of the world. They are coupled with changes in rainfall patterns, as well as increases in the likelihood of extreme weather phenomena, droughts, and floods. The regional climate and weather patterns are significantly influenced by changes in the currents of the South Indian Ocean, South Atlantic and Southern Ocean. The interactions between climate change and anthropogonic impacts, such as slash-and-burn agriculture and overfishing, are particularly strong, because a major proportion of the population depend on natural resources for their livelihoods. Major economic and social challenges related to climate change include compromised food and water security.
The research programme SPACES II – Science Partnerships for the Adaptation to Complex Earth System Processes in Southern Africa establishes collaborative research projects between German, Namibian and South African research institutions and universities. The programme intends to contribute to the formulation of science-based recommendations for Earth System management and to ensure the sustainable use of the multiple ecosystem services of the region.
The following priority themes for the projects were set together with the South African Department of Science and Innovation (DSI) (previously the South African Department of Science and Technology (DST)), and the Namibian National Commission on Research, Science and Technology (NCRST):
Priority themes for terrestrial projects

Functions of diverse landscapes in terms of sustainable land use, land use change, carbon and water flows, and their impact on biodiversity, habitats and ecosystem services;
Management options for multifunctional landscapes and societal resilience to environmental change;
Development and implementation of measures for the restoration and sustainable use of degraded ecosystems for resilience, adaptation and mitigation objectives.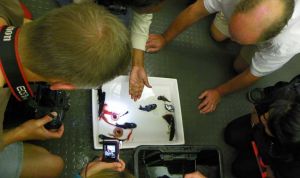 Priority themes for marine/coastal projects
Seasonal and interannual variability and trends in coastal current systems, their role in land-ocean-atmosphere interactions in southern Africa, their impact on biogeochemical cycles, and the management of marine natural resources;
The transport of carbon, water, nutrients and pollutants, their transformation mechanisms and dynamics in rivers, estuaries and coastal areas, and their importance as ecosystem services and for biodiversity.
Nine projects were selected from a large number of applicants to form the SPACES II Programme. Five of the projects have a terrestrial focus, and four have a marine/coastal focus.
CAPACITY BUILDING AND TRAINING
Capacity building and the training of early-career researchers is a central aim of SPACES II. A programme of over 30 workshops and summer schools is run in South Africa, Namibia and Germany. The training programme is aligned with the activities of regional initiatives, including the Alliance for Collaboration on Climate and Earth Systems Science (ACCESS) and Southern African Science Service Centre for Climate Change and Adaptive Land Management (SASSCAL). Topics cover key SPACES II themes, including modelling and simulations, greenhouse gas measurements, field survey methods, remote sensing techniques, ecosystem assessment and agroforestry. In addition, training is organised on research vessels. Furthermore, the DAAD supports a scholarship program Capacity Building/Development (CaBuDe), offering opportunities for research visits, networking and further education in Germany as well as equivalent activities of German scholarship holders in southern Africa.
Previous German-southern African collaborations and SPACES I
Both SPACES II as well as the earlier project phase SPACES I, are built on the previous activities of German scientists in the fields of marine research and sustainable land use, as well as the German-South African Year of Science 2012. Previous international large marine programmes with German participation included the Benguela Current Large Marine Ecosystem Programme (BCLME) and the Benguela Environment Fisheries Interaction and Training (BENEFIT) as well as broad-based initiatives such as NAMIBGAS and GENUS. Other previuos initiatives include the collaborative project BIOdiversity Monitoring Transect Analysis in Africa BIOTA and the Earth Science research programme Inkaba ye Africa.
The SPACES I terrestrial projects (2014-2017) conducted research on the integrative decision support for sustainable land use in savannahs in Southern Africa (IDESSA), on the dynamics of ecological and socio-economic processes in the Limpopo region of South Africa under the impact of global change (Limpopo Living Landscapes), on the adaptive resilience of South African ecosystems (Ars Africae) and on the options for sustainable geo-biosphere feedback management in savannahs (OPTIMASS).
Last updated on