21.04.2021
31.05.2026
Application Phase
Selection phase
Funding phase
Today
Sustainable land management in sub-Saharan Africa: Improving livelihoods through local research
Future-orientated land use in the sub-Saharan region and better adaptation to climate change - these are the goals of the BMBF funding initiative. The research results aim to produce effective measures that can be implemented in agriculture in the future.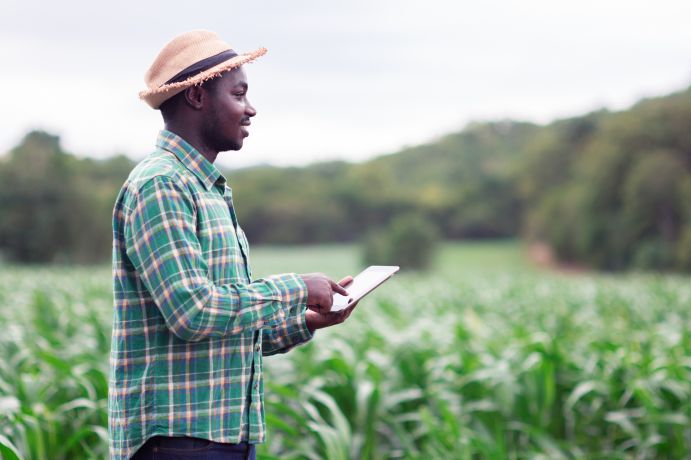 Land degradation has reached a critical state worldwide. It refers to the decline in ecosystem services, such as soil fertility, caused by human activity and climate change. The situation is particularly imminent on the African continent and especially in sub-Saharan Africa. Agriculture there is dominated by smallholder farms, low average income, inadequate infrastructure and difficulties in accessing markets. In addition, the agricultural systems have so far only been able to adapt to economic and natural risks – such as global market developments, rainfall fluctuations, heat stress or pandemics – to a limited extent. In many places, the increases in productivity are due to an expansion of agricultural land – with mostly negative effects on ecosystems.
Another challenge: according to the United Nations, the population in Africa is set to almost double to around 2.5 billion people by 2050. This will add to the pressure on land as a resource for food security. These factors and the increasing effects of climate change will make it more difficult to realise adequate yields and incomes, with the result that the risk of poverty for the rural population will continue to rise.
The transdisciplinary research programme funded by the Federal Ministry of Education and Research (BMBF) engages regional partners from science, administration, politics and business and creates the basis for identifying climate-adapted, resource-conserving and, above all, practicable solutions and instruments for sustainable land use in sub-Saharan Africa. The mutually generated knowledge will be integrated directly into local education and training programmes in order to improve livelihoods and support job creation in the long term. In particular, the development of digital formats, such as smart farming, advisory apps, e-learning and decision support systems, play a crucial role in the sustainable development of rural areas in Africa taking into account ecological, economic and social aspects in equal measure.
Significant need for research and action for sustainable land use in Africa
There is a great need for research and action for sustainable land management in African regions. Both the IPCC Special Report on Climate Change and Land Systems and the Report on Land Degradation and Restoration of the Intergovernmental Science-Policy Platform on Biodiversity and Ecosystem Services IPBES call on political decision-makers and the public to do more to combat the human-caused part of climate change, for example through carbon-fixing land use methods. In addition, it is important to identify climate-adapted solutions in agriculture and to do more to preserve ecosystem services and biodiversity. What is needed is a climate-adapted and sustainable improvement of farming methods and the specific production steps. In this context, for example, the restoration of degraded land and the simultaneous creation of "green jobs" – i.e. jobs that help to preserve or restore the quality of the environment – also offer considerable potential for sustainably improving the livelihoods of local people.
The BMBF funding programme "Sustainable Land Management in Sub-Saharan Africa" addresses these issues in order to close research gaps that have been identified both nationally and internationally. In doing so, it also contributes to reaching the international goal of achieving global "land degradation neutrality" by 2030. As part of the Desertification Convention (UNCCD: 1994), the international community agreed to prevent further land degradation and to compensate for unavoidable land and soil degradation by restoring ecosystem services elsewhere.
The projects at a glance
The BMBF is funding four research projects and one associated project. The INTERFACES project provides overarching support for all four research projects dealing with "Sustainable Land Management in Sub-Saharan Africa". The aim is to accelerate the implementation and development of the entire funding programme. INTERFACES is responsible for coordinating and organising accompanying activities to network the various participants. The BMBF provides a total of 14.5 million euros over the period from 2022 to 2027.
Last updated on