Field of action 7: Shaping society together – strengthening cohesion
Making an innovation-oriented, sustainable and socially just future possible – that is our declared goal.
To this end, sustainable and future-proof scientific and economic structures must be created in Germany and unequal developments within society, between urban and rural areas or between structurally strong and weak regions must be counteracted. More than ever before, we see the ecological challenges of our time – climate change, overexploitation of resources, environmental pollution – as an opportunity to boost innovative strength, promote successful business locations, build a resource- saving and environmentally friendly society, and maintain prosperity in our country, so that our social cohesion is also increased.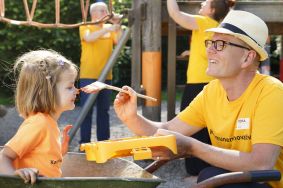 Action 21: Equal living conditions
Action 22: Supporting sustainable economic and financial systems
Last updated on