Seagrass only conditionally suitable for CO2 compensation
In a recent study, researchers from the MOPGA-GRI team at the Helmholtz Centre Hereon in Geesthacht have been able to prove that tropical seagrass meadows cannot absorb as much CO2 as has long been assumed.
The team at the Institute of Carbon Cycles, led by MOPGA-GRI fellow professor Helmuth Thomas, is researching, among other things, how well seagrass meadows are suited as blue carbon meth-ods. Reforestation of mangrove forests and the regeneration of saline and seagrass meadows are part of these methods of CO2 sequestration. As they are nature based, they are considered by many scientists among the most vital measures to combat climate change. However, a study by biogeochemist Dr Bryce Van Dam, that was recently published in Science Advances https://www.science.org/doi/10.1126/sciadv.abj1372 , shows that tropical seagrass meadows are less able to store carbon dioxide than so far assumed and actually release more CO2 into the at-mosphere than they can absorb. This finding is enormously important for correctly calculating the actual climate protection potential of seagrass meadows in the future.
The research results of Dr. Van Dam's team are based on a new combination of two scientific methods that allowed to account for all of the CO2 produced and consumed in an ecosystem. Thus, measurements were made in sediment along with measurements in water and air. "Really, the novel aspect of this study is that we were able to combine all of these approaches together at the same place and at the same time," says Bryce Van Dam. "By linking measurements in the sedi-ment with related measurements in the water and in the air, we were able to track and account for the processes that drive the ecosystem toward storing or releasing CO2."
In addition to the MOPGA-GRI team of Helmholtz-Zentrum Hereon, researchers from the following establishments contributed to the study: The Leibniz Institute for Baltic Sea Research, Warnemün-de; Florida International University; University of Florida; University of Greifswald; University of Rostock; and North Carolina State University.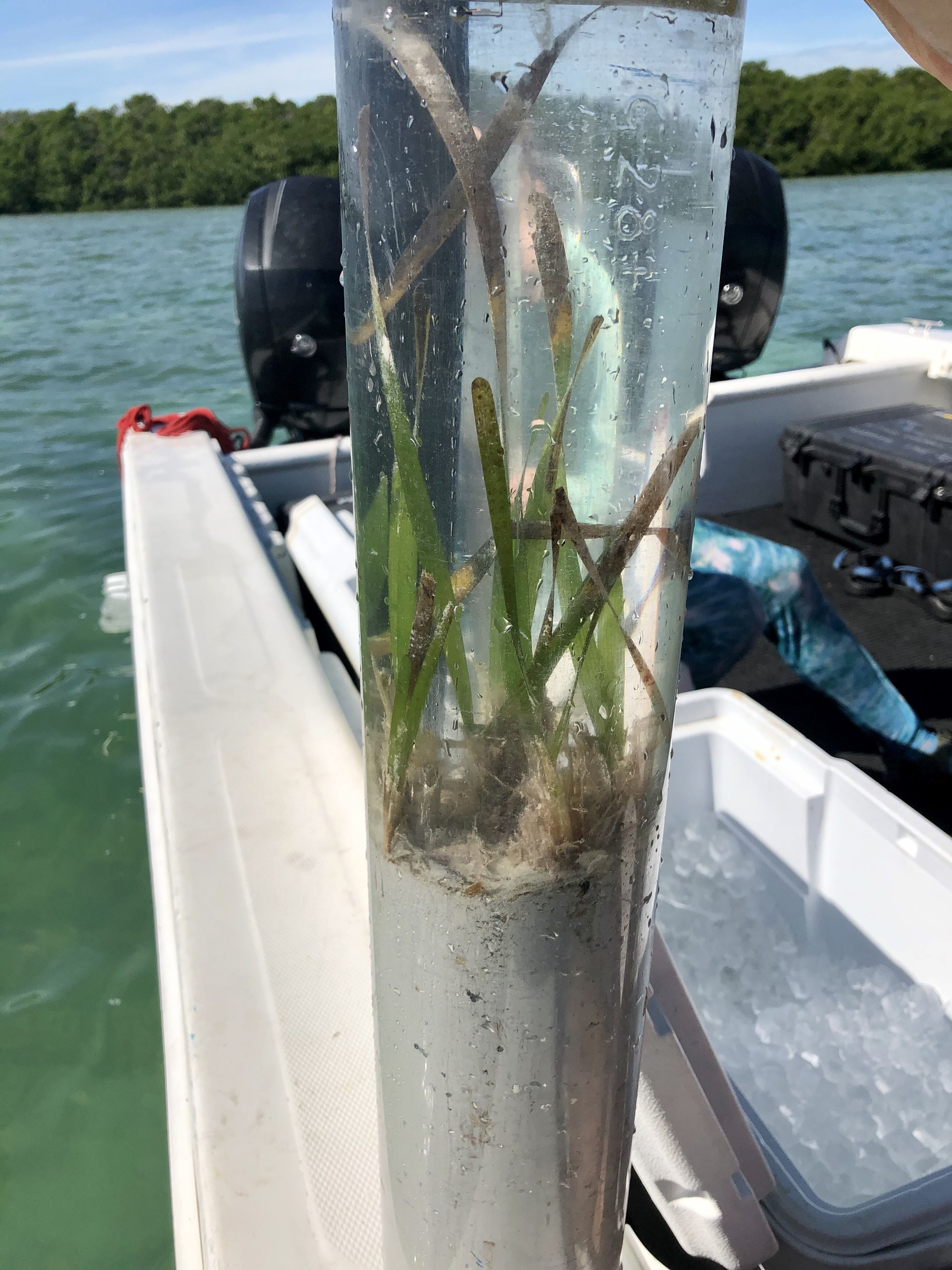 Sample of tropical seagrass
© Hereon/Bryce van Dam