Exchange among researchers: Kick-off event of German-African climate protection projects in West Africa
On 28 and 29 April 2022, around 60 participants addressed the current research status of the six "WRAP2.0" projects and their role for West Africa. The research programme "WRAP2.0" of the WASCAL Science Service Centre is funded by the BMBF.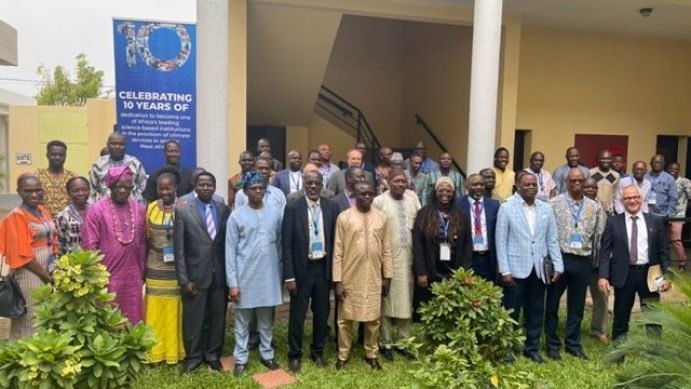 In November 2021, the starting signal was given for six German-African collaborative projects in the research programme "WRAP 2.0" (WASCAL RESEARCH ACTION PLAN 2.0). Now, on 28 and 29 April 2022, the kick-off workshop for the projects took place in Burkina Faso with around 60 participants. Scientists from West Africa and Germany, representatives of the WASCAL Science Service Centre and the German Federal Ministry of Education and Research (BMBF) came together. The overarching goal of all "WRAP2.0" projects is interdisciplinary research to combat climate change. For the researchers, such kick-off events are important for networking and intensifying professional exchange. The workshop focused on questions such as: "What impact can "WRAP2.0" climate research projects have on the livelihoods and socio-economic development of West African societies?" or "How can research strengthen sustainable development in West Africa?"

Dr Moumini Savadogo, Executive Director of WASCAL, opened the two-day workshop and emphasised: "All WRAP2.0 projects create new knowledge and therefore provide the basis for new solutions to counter the consequences of climate change. For the WASCAL Science Service Centre it is essential to develop the new knowledge together, i.e. in intensive cooperation between African and German research institutions.

Research programme WRAP2.0 of the WASCAL Science Service Centre

The six research projects focus on different topics: For example, one project is dedicated to the effects of climate change and intensified land use on greenhouse gas emissions. The aim is to improve greenhouse gas monitoring and to design climate scenarios as a basis for decision-making to improve living conditions in West Africa. Other research projects focus on the impacts of extreme weather effects, such as drought and flooding in West Africa. Researchers are also investigating the causes of and changes in migration patterns in rural exodus, commuting across African borders and international migration.