Academic education on the high seas: launch of the first "WASCAL Floating University"
From Mindelo (Cape Verde) to Bremerhaven (Germany): On board the research vessel Maria S. Merian, theory and practice are on the curriculum of the 14 students of the WASCAL Master's programme "Climate Change and Marine Sciences", which is funded by the BMBF.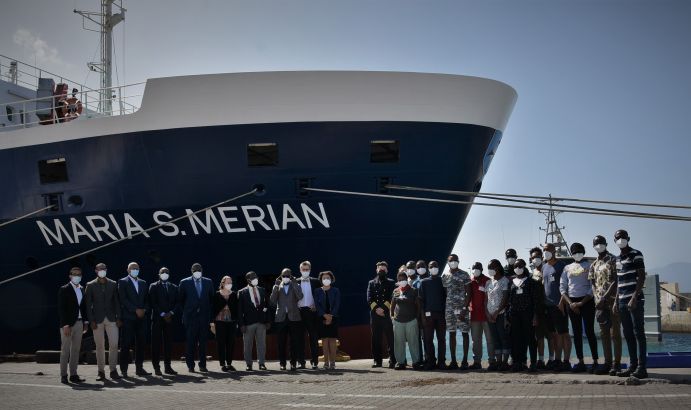 How is oceanographic sampling carried out? What marine laboratory techniques are available? How can water samples progrcontaining microplastics be taken from the sea surface? For 14 students of the two-year WASCAL Master's programme "Climate Change and Marine Sciences", an academic training and research trip lasting a couple of weeks started on 25 February 2022 from Mindelo (Cape Verde island of São Vicente) to Bremerhaven, Germany. The curriculum of the "WASCAL Floating University" includes lectures on topics such as ocean observation and marine ecology as well as practical research such as measurements of surface properties of the ocean. During the trip, scientists from Cape Verde and Germany will impart their knowledge to the students and guide them in the experiments for their master's theses. The WASCAL students will then take their final Master's exams in October 2022.
Dr Moumini Savadogo, Executive Director of the Science Service Centre WASCAL, explained on departure in Mindelo: "The trip on the 'Floating University' is the highlight of their studies for the students before they graduate with a Master's degree. With the combination of theory and practice, we want to make the programme even more vivid in this way to continue to generate enthusiasm for climate and marine research beyond their studies."
A Master's programme combines international scientific expertise
For the past two years, the Federal Ministry of Education and Research (BMBF) has been funding two WASCAL Master's programmes with a total of 1.2 million euros – including the Master's programme "Climate Change and Marine Science" for students from West Africa. The programme is run by the Atlantic Technical University of Cape Verde in close cooperation with GEOMAR Helmholtz Centre for Ocean Research Kiel, the University of Kiel and the Thünen Institute as German partner institutions and the National Institute for Fisheries Development (INDP) as the local partner institution. The aim is to promote junior research that deals primarily with social-ecological systems and concepts of sustainability in the tropical Northeast Atlantic, as well as fisheries management and science communication. The cooperation of researchers with fishermen as well as with stakeholders from politics and society forms an important basis for finding viable solutions for climate protection.
In 2021, the Science Service Centre WASCAL with its Master's programme "Climate Change and Marine Sciences" in Cape Verde for graduates was selected as an action of the UN Decade of Oceans.